Wellness Wednesday: Summer Paw Care
Be it running, walking, or fetching; dogs live their lives on their paws. This is why paw care is important to your dog's health and comfort. As summer approaches and the Charleston heat increases so do the chances that your pup is going to run into this common summer paw problem: Burns.

The pads on a dog's feet provide insulation and traction and protects a dog's joints while walking on hard surfaces. Stepping on sharp objects is not the only way your dog can injure their feet; they can also burn their pads. Unlike lacerations and other paw issues, burnt pads are not always apparent at first, but they are just as painful and can lead to severe infections. If your dog is showing any of these symptoms or behaviors, they might be suffering from burnt paw pads:



Limping or refusing to walk

Licking or chewing their feet

Paw pads that appear darker in color

Missing part of their pad

Blisters or redness
Check your pups paws regularly, and if they are burnt run cool water over your dog's feet or utilize a cold compress. Try to keep them off their feet. Severely burnt paws are a serious problem and should be seen by a Vet to determine if they need antibiotics or pain medication. Prevention is the best course of action. Be aware of hot surfaces such as, but not limited to:

Asphalt

Metal

Boat docks

Hot sand

Truck beds

Surfaces like these absorb heat and will be hotter than the air temperature. For example, when the air temperature is 86 degrees, the temperature of asphalt can reach 135 degrees.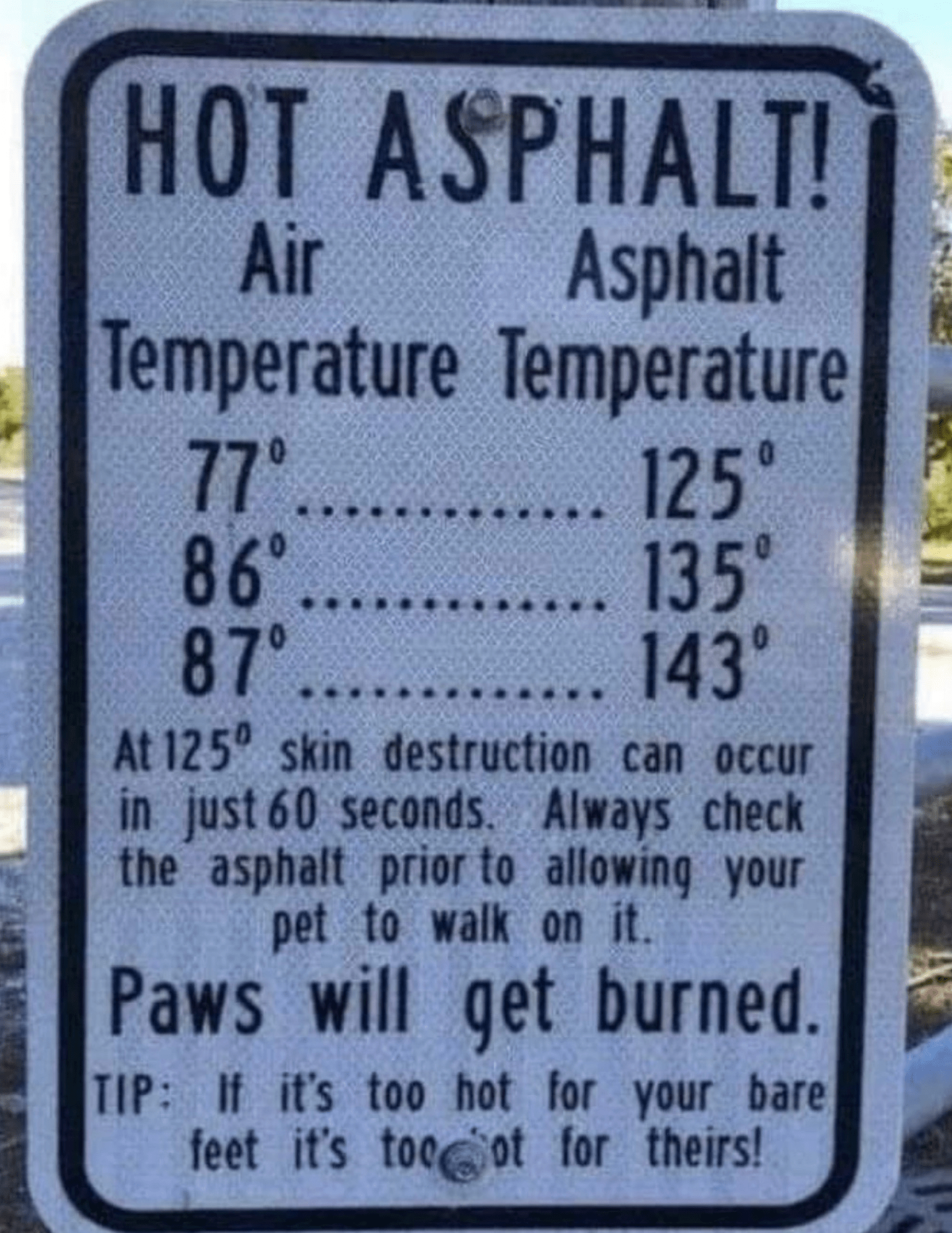 A good rule of thumb is: If it is too hot for you to walk on barefoot, then it is too hot for your dog. A good way to check is by placing your hand on the ground, and if you can't keep it there comfortably for more than 10 seconds, then it is too hot for your dog. Instead walk them on the cool side of the sidewalk or in the grass. Walk your pet in the morning or the evening when the sun is not as high in the sky. Lay down a cool towel if you are going to be standing on a hot surface for an extended period of time.
The best way to not only prevent but heal burnt paw pads is with paw balms. Here at
Michael's Barkery
we have a Moisturizing Paw Treatment that will help your poor pup's paws. We use
PURE and Natural Pet's
Paw Rescue, a certified organic product that is not only safe for your pet to lick, but also calms, heals, and moisturizes burnt paws to restore damage caused by heat. With regular use Paw Rescue also helps to protect your dog's paws by creating a protective layer between their paw pads and their environment.